Automotive Repair Services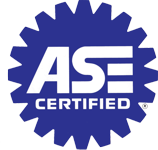 We Service Domestic and Foreign Cars, Trucks and SUV's.
Our ASE Certified Technicians at Dairyland Autowill give you the added assurance that your work will be done right the first time!!
Scheduled Auto Maintenance Needs
Your car has a recommended schedule of services to be performed over the years to maximize the life of your car. These services range from oil changes to timing belt replacements. Because of the fact that equipment doesn't always wear out according to schedule, we regularly perform a basic safety check on all service appointments that includes:
Wipers
Lights
Hoses
Belts
Tire Pressure
Suspension Components
Exhaust Levels and Check for Fluid leaks.

Brake Repair Service
Your brakes should be inspected at least once a year or if you experience a low or spongy brake pedal, squealing or grinding brakes, hard brake pedal, or a brake warning light that stays on continuously.
Replacement and installation of brake hardware, rotors, calipers, brake hoses, drums and master brake cylinders.
Resurfacing of drums and rotors if necessary
Cleaning and adjusting drum brakes and parking brakes
Brake fluid flush and removal of air from the brake lines
Anti-lock Braking System (ABS) diagnostics and repair

Exhaust and Muffler Repair
Climate and normal road conditions can damage, break, or wear out exhaust components over time. The comprehensive muffler and exhaust system service performed by the experts at Dairyland Auto includes:
Comprehensive inspection of all exhaust components
Replacing all exhaust parts that are broken, missing, or malfunctioning
Stop by Dairyland Auto today for an exhaust inspection and experience the satisfaction our expertise provides.

Oil Changes
Oil changes should be done every 3,000 miles (5,000 kilometers) and is vital for your vehicle and can help you avoid costly problems. We can have you in and out of the shop and back on the road within 20 minutes with a basic oil change.

Car & Truck Tires
Our technicians will inspect, rotate, and balance your tires, as scheduled.
We have several brands of new and used tires available.

Belt and Hose Replacement
Dairyland's experienced mechanics can detect many potential belt and hose problems with a simple visual inspection. Regular inspections, coupled with timely belt and hose replacement according to your vehicle manufacturer's recommendations, will help protect your vehicle against expensive repairs.

Radiator Repair
Radiators tend to get corroded or clogged, suffer from wear and tear, and develop leaks over time. Maintaining your car's cooling system is vital to a safe and happy ride.
You can count on our experts for all of your radiator service needs. Whether you need a repair or cleaning, our professionals can get the job done quickly.

Starters and Alternators
Starters and alternators are essential to get your car running and keep it running. There is no preventive maintenance you can do to keep them from wearing out over time. However, most cars have a light on their dashboard that comes on if the alternator is not charging the battery correctly. Dairyland Auto can determine if you may have a loose belt that can make it look like the alternator isn't working, or if you indeed need a new one..

Computer Diagnostics
A computer diagnosis is a reading of common problems that your vehicle indicates by warning lights on your vehicles dashboard gauges such as the check engine light or the anti-lock brake light as well as codes that your ECU logs. These readings are read by our diagnostic computer to pinpoint the exact problem to save you time and money by knowing where the problem is, and what needs to be repaired.

Fuel Injection Work
The electric fuel pump is the heart of every electronic fuel injection system.
Bring your car to Dairyland Auto for a fuel injection service saving money on gas, expensive engine repairs and getting your vehicle's power back to the optimal level.

Shocks, Springs and Struts
Whether your vehicle has conventional shock absorbers or a strut-based suspension system (which is typical in many front-wheel-drive cars), Dairyland Auto has the know-how and professional equipment to diagnose and repair any suspension problem. We also have the equipment necessary to correct any vehicle alignment issues we might find.

Tune-Ups
When your car is properly tuned, the ignition system, fuel system, emission system and computer system are all working together to result in peak combustion chamber efficiency. This saves you money at the gas pump and makes sure your car is emitting a minimum amount of pollutants into the air

Heating & Air Conditioning Repair
Our expert auto repair technicians are equipped to check for leaks and are specially trained to repair today's automotive air conditioning and climate control systems.